Revolution Fibres and leading furniture design house PLN Group collaborate to create quieter, more productive offices and learning spaces
THE CHALLENGE
Improve work and study environments, increase productivity, and enhance wellbeing through furniture

Noise and bad acoustics in an open-plan office and education spaces is a major problem. Noisy workmates and the din of coffee machines and computer keyboards are just a few examples that contribute to inside noise pollution which interrupt productivity and can lead to brain-rattling experiences.
PLN Group, owned by renowned Auckland furniture manufacturer Finewood, was established to develop products that improve workplace productivity and wellbeing in today's busy, open plan office and learning environments.
It required a solution that used advanced materials and technology instead of traditional soft materials which have limited absorption qualities and can be heavy and bulky.
PLN Group's design team looked at the problem differently by investigating the use of nanofibre, an extremely thin fibre with high absorption capability
THE SOLUTION
Combine Phonix™ Nanofibre technology with PLN Group's design innovation and expertise

Revolution Fibres and PLN Group worked together to design Phonix™ Nanofibre, an electrospun nanofibre that uses a range of polymers to create one of the world's thinnest acoustic veils.
Nanofibres are extremely fine fibres with incredible permeability, making them exceptionally absorbent, and with the ability to create a very large surface area in a dense, lightweight layer.
Because sound is a vibration when it meets a hard surface it is reflected back unless it can be absorbed by a soft surface which is what Phonix™ Nanofibre is designed to do. When sound is absorbed effectively the overall sound quality in a space is improved.

THE RESULT
Nanofibre in commercial furniture creates functional, productive and harmonious work and learning spaces

As design leaders in the field of acoustics and collaborative and flexible furniture systems, the use of Phonix™ Nanofibre enhances the sound-absorbing properties of PLN Group's product, such as the Return Focus Pod. The Return Focus Pod was designed as a place for focus work to occur without distraction.
Independent scientific testing into the effectiveness of Phonix™ Nanofibre, conducted by qualified industry experts in association with New Zealand's Innovation Agency, Callaghan Innovation, found it is at least twice as efficient at absorbing noise as a fibre with no nanofibre (see graph below).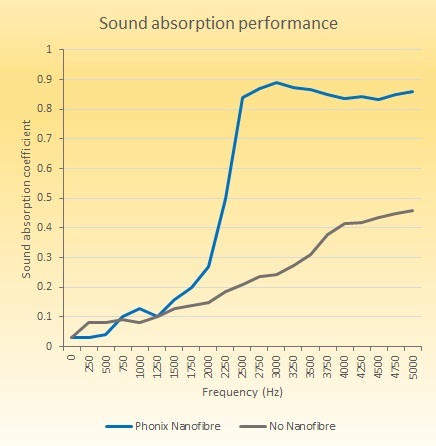 (Source from https://www.plngroup.co.nz/nanofibre-acoustic-furniture)
Nanofibre absorbs an exponentially higher proportion of sound than conventional fibres and converts sound energy to heat energy which is then dissipated. The ability of Phonix™ Nanofibre to absorb sound is at its strongest in the medium frequencies, which is the frequency of human speech and many common sounds in an office environment.
The thinness of Phonix™ also eliminates the bulk and weight of traditional acoustic furniture solutions.
PLN Group's products are making a positive difference to productivity and wellbeing in offices and education facilities, as well as health and aged care organisations and the hospitality sector.